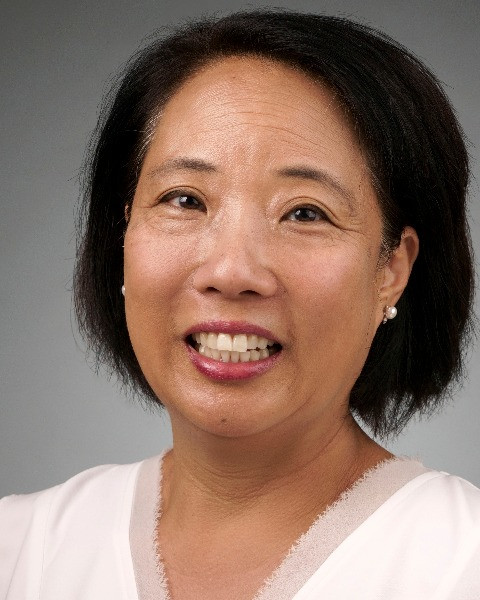 Joyce S. Chung, Ph.D., MPH
Dr. Joyce Chung is the Research Director for the Polytrauma System of Care and Rehabilitation Services at the VA Palo Alto Health Care System (VAPAHCS) and Site Director for the VA Traumatic Brain Injury Model Systems at VAPAHCS. Currently, she has research interests on the effect of traumatic brain injury (TBI) in women, virtual reality, and high-risk behavior associated with TBI. Other projects have included storytelling, educational efforts for high school and college students, and qualitative studies.
Dr. Chung has a Bachelors of Arts from the University of California (UC), Berkeley with a major in Integrative Biology, a Masters in Public Health from Yale University with an emphasis in Environmental Health, and a PhD from the UC Berkeley in Epidemiology. Dr. Chung has worked previously at UC Berkeley and the Santa Clara County Public Health Department.
VA Palo Alto Health Care System - Rehabilitation Service Research Program
The Rehabilitation Research at the VA PAHCS enhance and strengthen the clinical mission. During the military conflicts of Operation Enduring Freedom (OEF), Operation Iraqi Freedom (OIF), Operation New Dawn (OND), blast injuries resulted in a specific injury pattern termed "polytrauma". As defined, the term polytrauma reflects a constellation of injuries for which traumatic brain injury (TBI) is the driving diagnosis in treatment and management. The frequency of TBI in this cohort led to the TBI designation as the "signature wound" of these conflicts. The VAPAHCS was designated as one of 5 national centers with scope/leadership encompassing several states and territories, focusing on Polytrauma/TBI. We are comprehensive in its Neuro-Rehabilitation offerings.
Programs include:
Polytrauma System of Care (PSC) *

Polytrauma Rehabilitation Center (PRC) *
Comprehensive Rehabilitation Center (CRC) *
Stroke Rehabilitation Center *
Polytrauma Transitional Rehabilitation Program (PTRP) *
Regional Amputation Center (RAC) *
Polytrauma Network Site (PNS) *
Assistive Technology Center (ATC)
Headache Center of Excellence (HCoE)

Spinal Cord Injury/Disorders (SCI/D) *
Blind Rehabilitation Services (BRS) *
Physical Medicine & Rehabilitation (PM&R)
Recreational Therapy (RT)
* CARF Accredited Programs
The Clinical programs serve as the foundation for the Research program and serve to augment our clinical impact and outcomes.
The research program focuses on examining and implementing state-of-the art diagnosis, treatment, and management strategies to better treat and understand the sequelae of injury. The VAPAHCS has a unique role in this area in that we encompass the entire neuro-axis in its reach with a clinical foundation in all noted areas. Additionally, the partnership with VA TBI Center of Excellence, VA Headache Center of Excellence, TBI Model Systems National Data Center, Silicon Valley Industry and Stanford University /Academics has fostered extensive collaborations.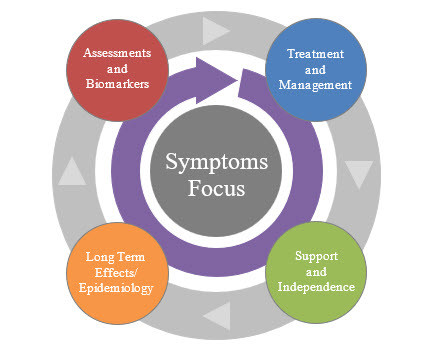 Figure: Symptoms Focus at VAPAHCS Rehabilitation Service include Assessments and Biomarkers, Long Terms Effects/Epidemiology, Treatment and Management and Support and Independence for Veterans
For additional information, to participate in research, or to support our research contact Dr. Joyce S. Chung (650) 493-5000 x67817 Joyce.chung@va.gov